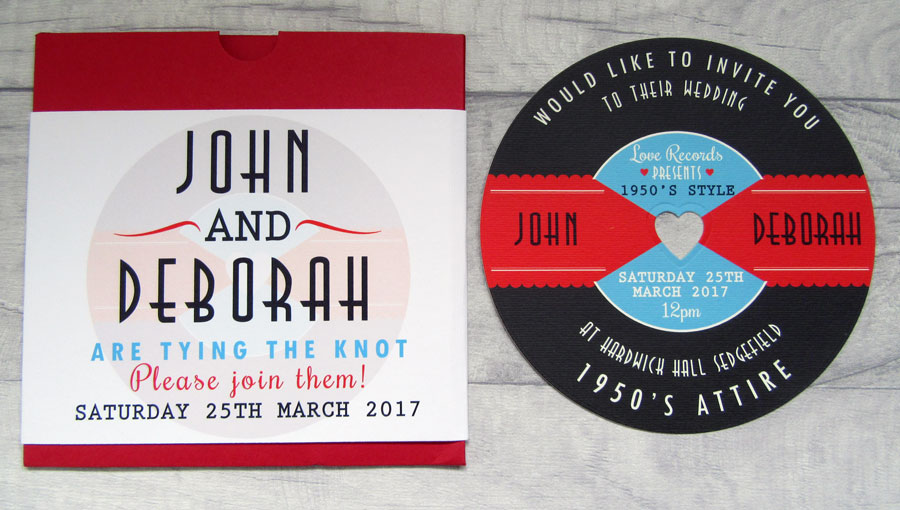 At Helen Scott Design, I offer a custom design service, which is ideal if you have a certain theme in mind or looking to add that extra personal touch. Which is exactly what one of my recent couples did.
Marrying at the beautiful Hardwich Hall, John and Deborah wanted a 1950's feel running throughout. With Polk dots, live bands, vintage roll up dos and 1950's guest attire! This had to be mirrored in their stationery and they wanted their Wedding invitations to excite their guests from the minute they opened them, giving a glimpse of the exciting, quirkiness to be expected on the day.
There is so much to love about the fifties including the music, is was after all the decade in which roll n roll was born and with both big music fans this was their chosen theme for their invitations.
It only seemed fitting to create a retro vinyl record, with all the wedding information included. The 'Love Record' was presented in its very own record sleeve. As for colours, the scheme was the classic 1950's Red, Black and Electric Blue.
I loved the final product, and with such positive feedback I think it would be perfect for other life events, such as anniversaries or birthdays.
If your interested in your very own record or having a themed wedding and want to talk more about a custom design, please contact me to discuss.